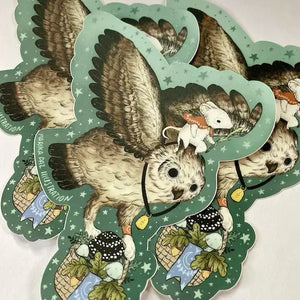 Mystic Owl Sticker
Marika Paz Illustration | Portland, Oregon.
A little faerie badger found in the back garden amongst the flowers.
This vinyl sticker is weather and waterproof, stick it on a notebook, bike, or car! This sticker can go anywhere. Sticker measures 4" x 3"

Marika Paz is a self taught artist and illustrator. Her art explores the relationships of animals, humans, and nature. Influenced by folk stories and mysticism, her work is dreamy and imaginative, creating a world of magic, wonder, and possibilities. Marika spends her days painting in her studio in Portland, Or. She creates intricate drawings of flora and fauna using watercolor, gouache, pencil, and ink.