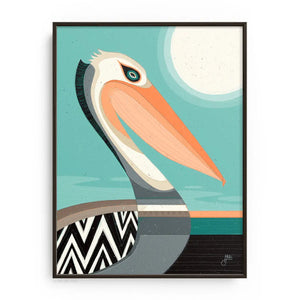 Pelecanidae
Company | Abel Arts | Ashland, OR
View collection available in the shop: Abel Arts Collection.
Bamboo paper: + digital fine art inkjet paper made from bamboo fibers. 19 mil thick, 290 gsm, matte finish. + 0.75 inch border around art. Actual paper size listed.
About Abel Arts.
Abel Arts is the art and design studio of Pacific Northwest artist Erik Abel. Inspired by his love of surfing, travel and the natural world, his work articulates the spirit of the ocean and awe of nature. Abel is committed to creating unique, high quality art and striving towards utilizing sustainable art practices and materials. Abel has used his art to fundraise and bring awareness to many environmental and ocean related organizations, and his work has attracted clients that include Patagonia, REI, Billabong, Pottery Barn, Reef, and Sector 9 Skateboards. His original artwork has been shown in galleries throughout the US and abroad. All Abel Arts paper prints use the worlds first fine art bamboo paper made with 90% bamboo fibers and 10% cotton. It's a beautiful, thick paper with a slight warm glow, and bamboo is a fast growing renewable resource.