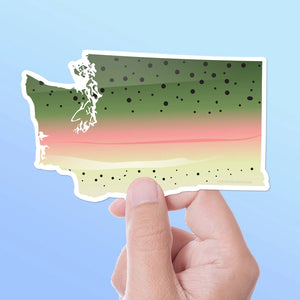 Rainbow Trout Washington Sticker
Sentinel Supply | Coeur D'Alene, Idaho.
Durable die-cut vinyl decal with matte UV coating. Waterproof & weatherproof for use indoors & outdoors. Made in ID.

Classic white oval stickers are a perfect souvenir: low cost, brings back great memories, no luggage space needed. Decals are a low overhead, guaranteed hit at boutiques & gift shops! Make some custom decals of your own as an upsell or impulse buy item. The possibilities are endless!
Made in Coeur d'Alene, Idaho.