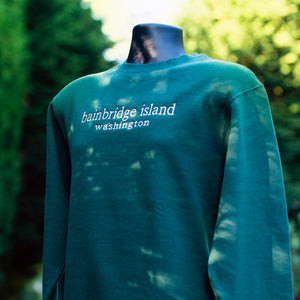 Bainbridge Island Forest Green Embroidered Crewneck
Exclusive Millstream Apparel represents a premium and distinctive clothing that offers a unique selection of clothing items. Millstream Bainbridge apparel focuses on producing high quality garments that are carefully designed and crafted to meet our customer's expectations.
About This Product:
The forest green crew sweatshirt is a timeless and classic piece of attire that embodies comfort and style. Its rich, deep shade of green draws inspiration from the lush foliage of a tranquil forest, creating a connection with nature. Crafted from high-quality materials, this sweatshirt ensures a cozy and snug fit, perfect for chilly days or casual outings.
The standout feature of this sweatshirt is the meticulously embroidered lettering that proudly displays "Bainbridge Island." The embroidery adds an artisanal touch, showcasing a level of detail and craftsmanship that elevates the sweatshirt's overall aesthetic.
Product Description: 70% Cotton / 30% Polyester fabric for a perfect long lasting fit. 
Pre-Order Placement: To place a pre-order, select the desired item size. Choose your preferred size, color, and any other applicable options. Add the item to your cart and proceed to checkout.
Order Confirmation: Once your pre-order is successfully placed and payment is processed, you will receive an order confirmation email. 
Estimated Delivery: The estimated delivery time for pre-order items will be clearly indicated on the product page and during the checkout process. Please note that these delivery estimates are approximate and subject to change due to factors beyond our control, such as manufacturing delays or unforeseen logistical issues.
The following sizes are expected to arrive:
MEDIUM: Arriving November 2023
LARGE
:
Arriving early-mid September 2023