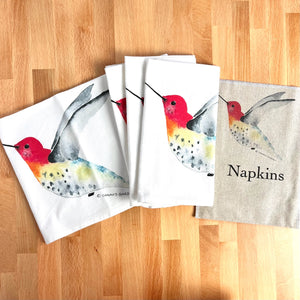 Hummingbird Flour Sack Napkins
Chavah's Garden | Seattle, WA
Flour sack fabric is 100% cotton but also has a special element that makes it almost miraculously absorbent. The threads are spun at different tensions so when it's woven together it has a seersucker rippling effect. It is luscious and practical, hence my passion for it. I wrote six or seven factories for samples before finding the real McCoy.
Washer-dryer friendly, so hardy for their rugged life wiping fingers, mouths, and spills as needed and with all the magic absorption powers of flour sack.
It includes a set of four flour sack napkins in a linen pouch.