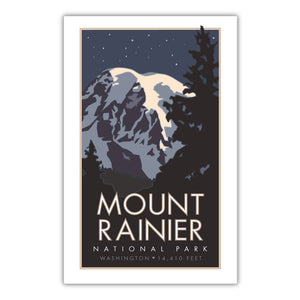 Mt. Rainier Poster 11" x 17"
Company | Travel Posters
Our premier NW state design, we featured the iconic Mount Rainier as it looms high above the Seattle and Tacoma cityscapes, towering 14,410 ft. above sea level in Washington state's Cascade Range. Our poster, printed on heavy 80-lb. paper, features a black frame to enhance the display. Glass protects the poster and an acrylic-edged frame makes it easy to insert our poster art. Frame measures 11″ x 17″, and fits our posters perfectly. Ready for display with no matting or hanging hardware needed.