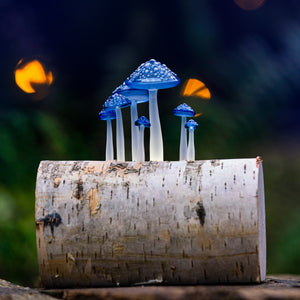 Blue Birch Log Mushroom Lamp
Company | Sage Studios | Invited Brand
About this product
This unique night light is created from a 7" long birch log. I created glass mushrooms and insert them into the log and embed LED lights in the center so that they shine up through the 'shrooms.
• Made in United States • Dimensions: 4″ x 7″ x 6″ (10.2 x 17.8 x 15.2 cm)
About Sage Studios
Inspired by nature, family and a background in scientific glass, Sage Studios works in an open flame creating works of functional art. Every piece is a one-of-a-kind creation that is handmade with love and not available on Amazon. Your purchase supports a woman-owned business, whom we at Millstream admire! The studio may not be in the PNW, but their creations fit our nature inspired aesthetic. We hope you enjoy!
People Who Purchased This Item Viewed the Following:
Dragonfly Lamp (Nature Inspired)