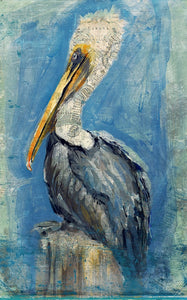 Brown Pelican
Company | Red Horse Arts | Woodinville, WA
View More from this Brand | Red Horse Arts Collection
About this product
Coastal blue heron image by artist Suzanne Nicoll printed directly on distressed wood. unique wall decor that will add character to any beach or coastal home.
Small: 25" x 40" (PRE ORDER SIZE)
Large Size: 20"x 32" (Available at the Shop)
XLarge Size: 25" x 40" (PRE ORDER SIZE)
Non-Refundable Policy: Pre-orders are only refundable in the first 24 hours from order. After this period, order will be non-refundable. Once you place a pre-order, the product is reserved for you, and our production and logistics processes are initiated to fulfill your order. Due to the nature of pre-orders, we are unable to offer refunds or cancellations after the first 24 hours from when your order has been placed. Please ensure that you are committed to the purchase before proceeding with your pre-order.

Shipping Time: Pre-order products may take up to 2 1/2 weeks to ship out from the date of order confirmation. This estimated shipping time includes the time required for production, quality checks, and packaging. Please note that unforeseen circumstances such as manufacturing delays or supply chain disruptions may impact the shipping timeline. We will do our best to keep you updated on any significant changes to the expected shipping date.