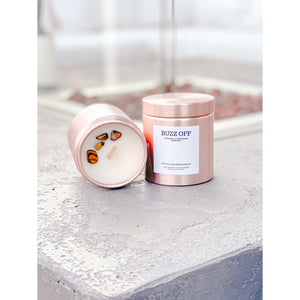 8oz BUZZ OFF Crystal Candle: Citronella & Lemongrass
Crystal Wellness Company | Snoqualmie, Washington.
Scent Notes: Citronella, lemongrass, and cedarwood combine for a woody and slightly crisp fragrance, reminiscent of evening bonfires on a cool summer's night.
8 oz
White frosted reusable glass vessel. Natural soy and coconut wax blend infused with premium fragrance oil providing a clean burn. Eco-friendly wood wick. Infused Tiger Eye (confidence, energy, good luck). May burn up to 50 hours. Ingredients are 100% all natural, vegan, and plant-based, without parabens, sulfates, or animal interference and hand poured in Washington.
Crystal description card included. This candle does NOT come with a box.
Suggested Use: The first time you light your candle, allow it to burn until the wax pool melts all the way to the edge. Wax has "memory," so if it is extinguished with a partial pool, that will prevent a full, even pool from forming in the future.

Made in United States of America