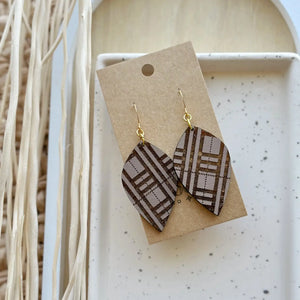 Favorite Flannel | Tobacco
Jeweler | Wicket Goods | Selah, WA
View More Jewelry from This Artist | Wicket Goods Collection
About this product
Who says ghosts need to be scary? These boo-tiful gals are the perfect (and cutest) way to celebrate spooky season. What we love most about these earrings? They pack a one-two punch: they're lightweight and beautiful! You won't want to take them off.
Approximately 2" length. Laser engraved, hand painted basswood, and raw brass.
Material: Hypoallergenic gold-plated brass ear wires.