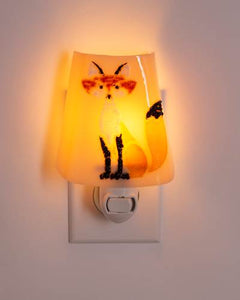 Fox Nightlight
Forest Nightlight - Rich dark green powdered glass creates this forest with snow like shimmering glass crystals surrounding their base.
Each night light is an original work of art. The design is created using a base of hand-cut glass. Glass powders and shards of glass are applied to complete the final design. The glass powders and shards are fused together and annealed in a kiln for strength and durability. The fused piece is then slumped in the kiln to achieve the curved form that will surround the bulb.
Glass measures approximately 3" wide x 3" tall. Finished size with light switch is 3" wide x 4" tall. Bulb included. Gift boxed.