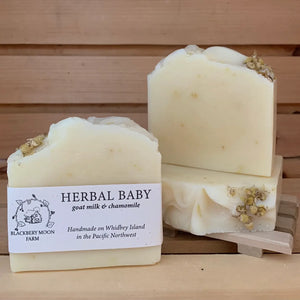 Herbal Baby Soap
Company | Blackberry Moon Farm | Whidbey Island, WA
View more from this Artisan: Blackberry Moon Farm Collection
Molly Jacobson is a farmer, a wife, a mother of eight and a longtime soap maker. Blackberry Moon is her family farm on Whidbey Island in the Pacific Northwest. Every product is small batch crafted by Molly and her family.

From organically grown herbs and fresh goat milk to the wild medicinal plants of the sea and forest, Blackberry Moon Body Care is filled with the bounty of the Pacific Northwest.
Herbal Baby Ingredients: Jumbo 7 oz bar Gentle herbs with notes of lavender and orange combine with fresh goat milk to make this the perfect bar for your baby.