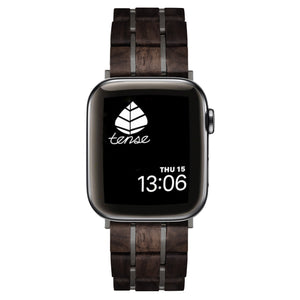 Leadwood/Gunmetal Apple Watch Band
Company | Tense Watches | Port Coquitlam, British Columbia
Note: Please allow 7 normal business days for shipping.
Tense Watches designs high-quality wooden watches. They are made from 100% recycled or reclaimed wood, and are powered by premium Rondo 6004D Swiss Movements or Japanese Miyota Watch Movements. Each watch is manufactured by hand in our workshop in Vancouver, British Columbia, Canada.
Tense's founder, Ken Lau, has been designing and building clocks since the 60's when he moved to British Columbia. Inspired by his new surroundings in BC, Ken began experimenting with wood in his designs. In 1971 with his wood crafting skills honed, Ken launched Tense Watches. Before he started making wood watches in 1971, Ken worked with natural materials like stone in his clock designs.