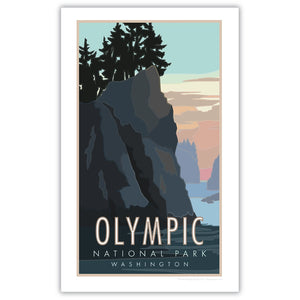 Olympic National Park (Sea Stacks) Print 11" x 17"
Company | Travel Posters
Olympic National Park in Washington State covers a wide variety of ecosystems, one of its most unique features being the sea stacks found along the 73-mile long wilderness coast. These majestic sea stacks against the gorgeous coastal setting of Olympic National Park are highlighted in our original design. Our 11″ x 17″ poster is printed on heavy 80-lb. paper and enclosed in a protective clear bag with a sturdy backerboard.