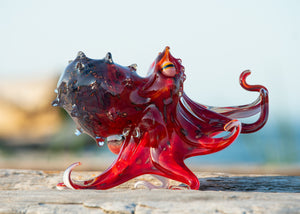 Pacific Coast Glass Octopus 11"
Artist | Thompson Glass Studio | Bend, Oregon
View other works from this artist: Jeff Thompson Glass Studio
Size: 11 inches.
This beautiful and unique piece of art exudes all of the movement and drama that is inherent in the mysterious octopus.  This one-of-a-kind demonstration of glasswork mastery is the perfect well-lit accent piece for the discriminating tastefully decorated home.