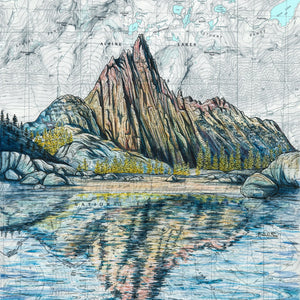 Prusik Peak Enchantments Washington Matted Print
Company | Final Switchback by Katie Jeanne Reim | Portland, OR
View more of this artist's collection at Millstream: Final Switchback by Katie Jeanne Reim
About this product
Prusik peak in the enchantments, outside leavenworth is featured in this mountain painting on a vintage map. This washington wilderness landscape comes in a variety of print sizes.

Specs:
Small Prints are 5x7" in 8x10" mats
Medium Prints are 8" x 10" in 11" x 14"
Large 12" x 16" in 16" x 20" mats.