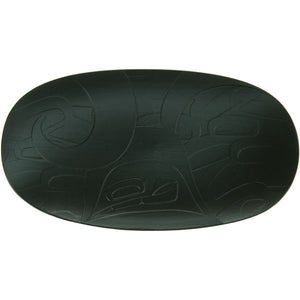 Sea to Sky Land Charcoal Platter - Medium
The Sea to Sky Collection of nesting platters is a collaboration between Corrine Hunt and Boma Manufacturing. Each piece expresses an element of air, sea or land along with an animal familiar to that element. This small platter, "Peace in the Family" expresses the land theme with a wolf. Corrine likens her work to poetry, where a few simple lines can evoke a rich sense of place. Varying depths of relief add a three dimensional look. The resulting piece is modern, yet evocative of Corrine's First Nation heritage. 10 x 5¾ inches. Recycled glass. Made in Canada.

Born in Alert Bay British Columbia in 1959, Corrine Hunt has been creating contemporary art that reflects the themes and traditions of her First Nations Komoyue and Tlingit heritage since 1985.
Corrine's works include engraved gold and silver jewelry and accessories, custom furnishings in carved stainless steel and reclaimed wood, modern totem poles and other sculptural installations. She codesigned the medals for the 2010 Vancouver Olympics and Paralympics.