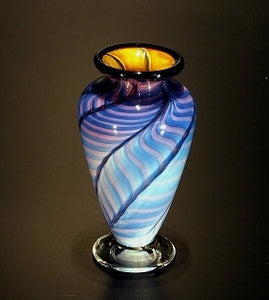 Topaz Purple/Blue Feathered Vase 14"
Company | Glass Forge Glass | Grant Pass, OR
Founded by two master glassblowers, Lee Wassink and Nathan Sheafor, The Glass Forge first lit its furnaces on Memorial Day of 1998. Specializing in Venetian-style art glass, they produce a wide variety of functional and artistic glass objects.
The Glass Forge Gallery and Studio uses traditional Italian art glass techniques to create the wide variety of art you see on our website. Most of our work is done in a team-oriented fashion, with a gaffer directing the art being created. These techniques have been practiced for at least two thousand years.