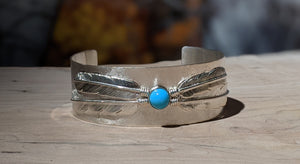 Turquoise Binding Four Feather Cuff Bracelet
This is your chance to own a one of a kind, beautifully hand crafted tribal Native sterling silver bracelet. Artwork you can wear and leave as a legacy!
Description: Unisex Bracelet with Turquoise and Sterling Silver
About the Artist - Alonzo Herrera.
Alonzo is a half-native, half hispanic who's affiliated with the Klamath Tribe in Southern Oregon. Alonzo is a self-taught silversmith with over 50 years of experience making one of a kind pieces.