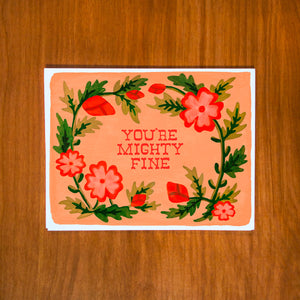 You're Mighty Fine Card
I'm Mollie, the founder and painter behind Pretty Bird Paper Co. I studied industrial design at the University of Washington, where I learned not only how to manufacture kitchen tools, but also how to de-stress with the practice of watercolors. I first turned my illustrations into postcards in 2016, and the rest, of course, is history.
All of Pretty Bird production and most of the painting takes place in Seattle, but the worlds within my art stretch from the Mojave desert to the jungles of India. I make cards to champion human connection and prints to touch rooms with light and imagination.