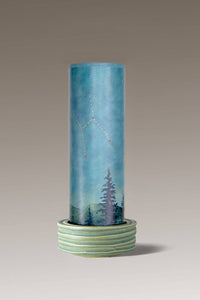 Midnight Shade - Luminaire by Janna Ugone
Think warm glow, a modern lantern, creating a mood of painterly color + pattern. That best describe's the artful glow of these illuminated treasures. Designed and crafted in our Easthampton studio, a unique giclee shade of Janna's art, often selectively pierced, is atop a steel, copper riveted base or our hand carved + glazed pottery base.
A perfect accent for the kitchen or dining area, bedroom, mantle, console or bookcase.