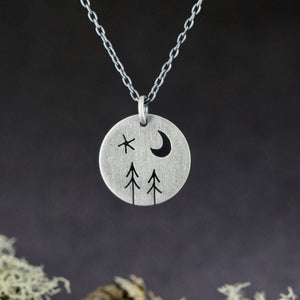 Two Pine + Star + Crescent Moon Round Pendant
Description: Pendant size measures approx. 5/8 inch in diameter. Pendant comes with an approx. 18 inch oxidized sterling silver chain."

Artist: Silentgoddess Art Jewelry (Tenino, WA)
About the Artist:
Most of Silentgoddess art jewelry starts off as a hand sketched drawing that is then cut out using a jeweler's saw. The jeweler doesn't use any templates, each design is drawn onto the metal then sawn out. They also design and fabricate gemstone jewelry using traditional metal smithing techniques. Every piece of jewelry Silentgoddess create is a small piece of art that is meant to be worn. Their favorite metals to work with are sterling silver and 14kt gold.