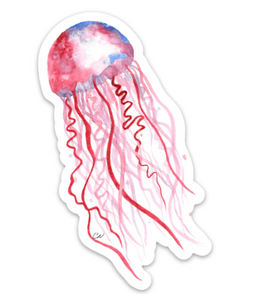 Red Jellyfish | Watercolour Sticker
Celina Nerison | Washington
The mesmerizing "Red Jellyfish" watercolor sticker – a stunning and artistic tribute to the captivating beauty of these otherworldly ocean dwellers! This eye-catching sticker features a gracefully floating red jellyfish, rendered in a delicate watercolor style that showcases its ethereal elegance and fluid movement. Measuring 2.51" x 4", this enchanting sticker is perfect for personalizing your water bottle, laptop, phone case, or any other surface you wish to adorn with a touch of oceanic wonder.
Made from high-quality, dishwasher-safe, and durable material, the "Red Jellyfish" sticker is designed to withstand the test of time, even on items exposed to frequent washing. The easy-to-apply adhesive backing ensures a hassle-free experience, allowing you to showcase your love for these magnificent creatures and the mysteries of the deep sea in no time.
The "Red Jellyfish" sticker makes a perfect gift for ocean enthusiasts, marine life lovers, and those who appreciate the awe-inspiring beauty of nature's underwater realm. Add this striking, dishwasher-safe, and durable sticker to your collection, and let it serve as a constant reminder of the enchanting world that lies beneath the ocean's surface.